Unsurprisingly we are being asked this and similar questions by many clients at the moment.
The Vote Leave camp says that Brexit would mean Britain regaining full control over its borders which would reduce migration, creating jobs for British workers and boosting wages as well as easing pressure on services. They propose to have free trade agreements with various countries instead.
The Britain is Stronger in Europe camp says that immigration from the rest of the EU has been good for Britain's economy and that Britain might anyway have to agree to allow free movement of EU migrants as part of free trade agreements. The Office for Budget Responsibility points out that taxes paid by immigrants help fund public services.
Opposing camps cite different projections about the number of jobs that could be lost or gained by Brexit.
A report from Think Tank, "Open Europe" this week reported that immigration is unlikely to reduce in the event of Brexit.
If Britain did leave the EU, then immigration to the UK would be regulated solely by British law and so it would be possible to exclude EU citizens and impose the same visa conditions on them as required for those coming from other countries.
There isn't a current accurate figure for the number of EU migrants in the UK. The number working here is apparently going to be revealed weeks before the Referendum.
Brexit wouldn't only affect EU migrants working and running businesses in the UK of course. There are also large numbers of Britons working and running businesses in EU states. Recent estimates by the UK government are that around 2.2 million British citizens live in other EU countries. EU states could also impose visa restrictions upon British nationals.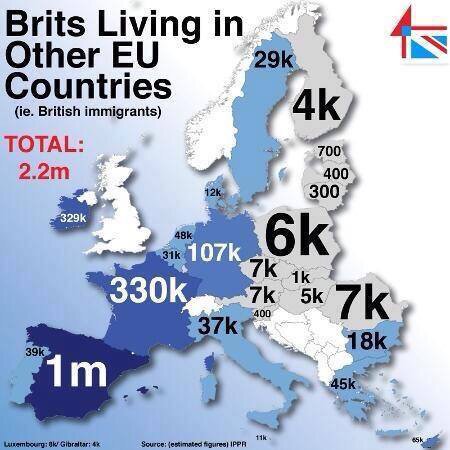 The Vote Leave camp say that citizens of other EU countries living in the UK would be protected by various EU treaties and could be given indefinite leave to remain, as could British nationals living in EU countries.
However, EU nationals in the UK and British nationals in EU states are nervous about this as what will happen in the event of Brexit is uncertain because it is open to negotiation.
If Brexit is the outcome of the Referendum, the changes will not be instantaneous. The Treaty of Lisbon introduced an exit clause to withdraw from the EU. Under Article 50, Britain would need to notify the European Council of its intention to exit the EU and negotiate a withdrawal by agreement. EU Treaties would then cease to apply either from the date of the agreement or within 2 years of notification. It seems therefore that it could take around 2 years for an exit to be negotiated and arranged. In this period of time, there would highly likely be unilateral agreements with other former EU colleagues or other non-EU countries put into place.
Uncertainty breeds insecurity. EU migrants who are contributing to the UK economy are understandably going to be nervous about committing to working in and particularly of investing money into the UK economy by setting up or growing their businesses here with the impending EU Referendum. Our clients are worried how Brexit could affect the ability of them and their families to remain in the UK.
It is not only EU national clients who are nervous. Non-EU national clients tell us they are worried about changes to UK law in the event of Brexit, particularly if rights protected by European law disappear such as the repealing of the Human Rights Act to take the European Convention on Human Rights provisions out of UK law or the long residence rules.
For more advice, contact Irfan Ali on 0191 243 8151 or ChatLive on our website.
For further information visit here.