Family Mediation Voucher Scheme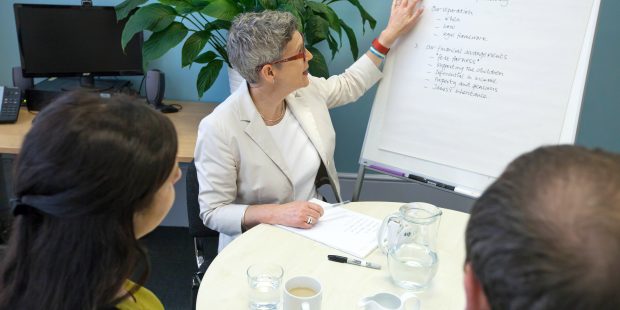 New national Family Mediation Voucher Scheme
The Ministry of Justice recently launched a national Family Mediation Voucher Scheme committing a million pounds to provide financial support towards the cost of family mediation in a bid to keep more children cases out of court.
The scheme offers a payment of up to £500 towards the cost of a family mediation.  It will be possible to combine this scheme with legal aid for some couples to effectively create free mediation.
Who is eligible for the Family Mediation Voucher Scheme?
There are some important conditions for eligibility:-
The mediation intake meetings (known as MIAM's) must have taken place on or after the 26 March 2021
The mediation must have a children focus (in other words cannot just be about the financial aspects of a financial separation)
The participants who receive the financial assistance must be willing to share data about their mediation to allow assessment of the effectiveness of the scheme.
There is more information available on the government website.
What is Family Mediation?
Family mediation is a process in which an independent, professionally trained mediator, helps parents work out arrangements for children and finances following their separation.  Mediation can also be helpful when previous child arrangements need to change, particularly as children grow up and their needs change.
A mediation for this scheme will be provided by Family Mediation Council accredited (FMCA) mediators who are the most highly qualified mediators.
Family Mediation at David Gray
Mary Shaw, FMCA, Head of David Gray's mediation team welcome this initiative:
"Whilst the scheme is time and cash limited the Ministry of Justice  is sending out a clear message raising the profile of family mediation as a better way to resolve separation and divorce family disputes.   It is also giving parents going through separation and divorce clear encouragement to find solutions that allow them to maintain control of the outcome rather than relying on Judges to make decisions for them.  The scheme is also reasonably flexible in that it can support a parent whose ex-partner is eligible for legal aid, it can support one half of a couple who is on a lower income or it can support both halves of the couple who decide to share the voucher.  Family Mediation at David Gray have registered for this scheme and my colleague, Ailsa Gilhespy, FMCA, and I will both be pleased to help couples who can take advantage of the scheme.  However, even if you are not eligible for the scheme I would always urge couples to consider mediation as a way to do the necessary separation work to be in the best possible place to be good parents for your children, albeit in separate homes.  We know from research that it is not separation and divorce per se which adversely impacts on children but how that separation or divorce is handled.  Children who are subject to and live in the shadow of ongoing parental conflict post-separation do tend to fare less well".
If you are interested in learning more about mediation and the voucher scheme and how mediation at David Gray can help you, please contact our mediation service co-ordinator Louise Law at louise.law@davidgray.co.uk or telephone 0191 2329547 extension 1914.