As a specialist Solicitor Advocate, I represent and advise clients regarding a wide range of criminal offences in both the Magistrates and Crown Courts.
Being suspected of or charged with a criminal offence is often an exceptionally stressful and frightening time, and it's vital that expert advice is sought to properly guide you through the process from start to finish.
I am an accredited court duty solicitor and police station representative. As such, I am uniquely placed to advise and represent clients from the very beginning of a case to conclusion.
Client care is paramount and I pride myself on ensuring every client I act for receives outstanding advice and representation throughout their case. Criminal cases require excellent attention to detail and dedication to ensure the best result can be achieved, and every client can be assured that their needs will be listened to throughout when considering the best course of action.
When accused of a criminal offence, everyone should be entitled to high-quality legal representation. Funding such representation is very often a concern for clients, and I therefore accept instructions from both privately funded and legally aided clients. Where privately funded, I will strive to always provide accurate quotations in advance, or work towards a fixed fee for peace of mind.
Prior to joining David Gray Solicitors, I studied Law at Newcastle University, graduating in 2015. Following the completion of my Legal Practice Course, I then successfully undertook my training contract at a large, regional firm in the North East. I qualified as a solicitor in September 2018.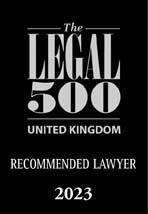 The Chambers and Partners 2023 said:
"Solicitor advocate Sophie Allinson plays a key role as an accredited court duty solicitor and police station representative."
---
Find out more about Sophie and her day to day work in our 'A cuppa with series.'
---